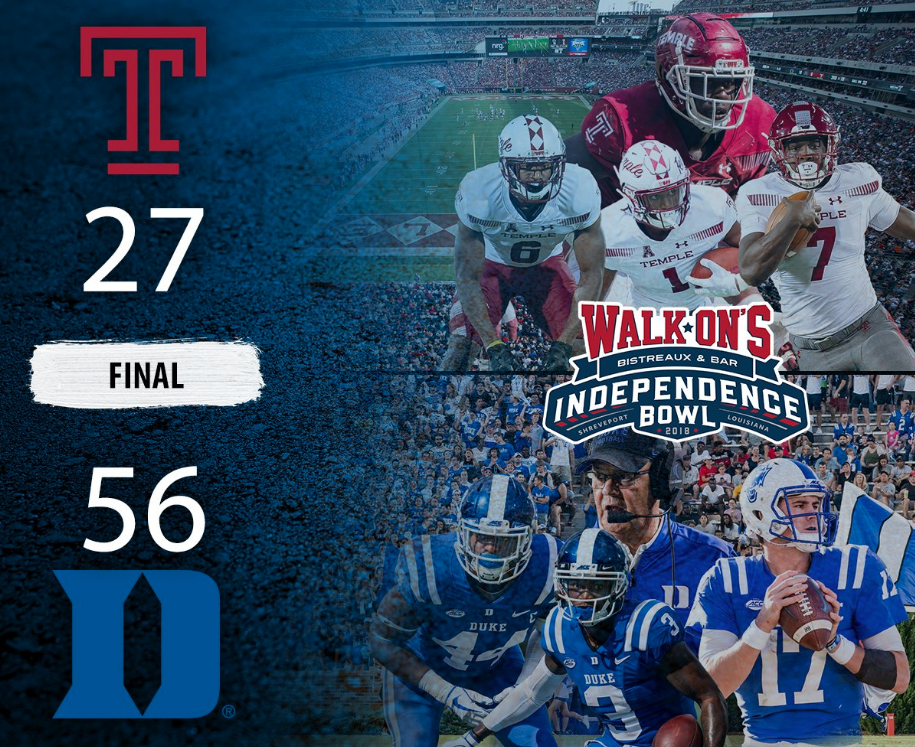 Duke Defeats Temple 56-27 in Walk-On's Independence Bowl
The 2018 Walk-On's Independence Bowl featured two teams making their first appearance in Shreveport, as the Duke Blue Devils (8-5) defeated the Temple Owls (8-5) 56-27, setting a new record for points scored in an Independence Bowl.
The Blue Devils shattered multiple records in the victory, led by redshirt junior quarterback Daniel Jones. Jones recorded an Independence Bowl-record six touchdowns – five passing and one rushing- and threw for an Independence Bowl-record five touchdowns. His 423 passing yards broke the previously-held record of 390 by Josh Heupel in 1999.
One of Jones' wide receivers, T.J. Rahming, also shattered an I-Bowl record for receiving yards with 240. His 12 catches tied and Independence Bowl record – tying Virginia Tech's Isaiah Ford in the 2015 Independence Bowl.
"There's so many things he does on the field to help our offense. It makes my job pretty easy when you can throw a glorified slant and he takes it 80 yards to the house," said Jones of Rahming. "That's not a hard thing for me to do, and it shows the special kind of player he is and what he can do. I have a lot of trust and am very appreciative for what he's done for me personally. He's a special player."
Duke trailed 27-21 at halftime, but an Independence Bowl-record 35 second-half points and a second-half shutout propelled the Blue Devils to victory. Jones took home Offensive Player of the Game honors for this year's matchup, while Temple safety Delvon Randall earned the Defensive Player of the Game award. Randall put the Owls up 13-7 in the first quarter with a 57-yard interception return for a touchdown.
With the Duke victory, the Atlantic Coast Conference (ACC) holds a 6-5-1 record in Independence Bowl history, and the conference has now won four straight Independence Bowls.