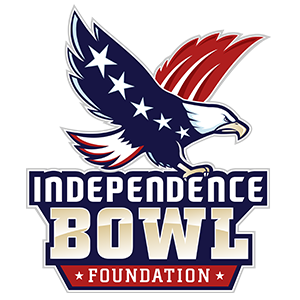 Independence Bowl Foundation Unveils New Logo; Kid Combine Event
The Independence Bowl Foundation has unveiled a new logo, prominently featuring an eagle, which was a staple of the Independence Bowl's logo from 1983 until 2005.
Included in the logo are five stars, representing the Independence Bowl's connection to General Omar N. Bradley, the first recipient and now namesake of the Spirit of Independence Award, presented annually at the Independence Bowl. Bradley was the last man to be promoted to General of the Army, also known as a "Five-Star General."
The new logo will be used for Independence Bowl Foundation business and as the primary mark of the Independence Bowl until a new title sponsor is signed and separate branding is created.
New Event Series
Beginning in 2017, the Independence Bowl Foundation will host the Kid Combine at various events throughout the year, with the first iteration of the Kid Combine coming at Crawfest, held on Saturday, March 25 at Betty Virginia Park from 11 a.m. – 4 p.m.
The Kid Combine consists of four different drills, similar to those found at the NFL Scouting Combine, called The 40, The Shuttle, The Catch and The Throw. The performances of each drill will be recorded, and the top three in each drill will be awarded prizes.
The top performances will be kept up from each event throughout the year, and the top performers from each age group at the end of the year will have an opportunity to compete in the drills on game day of the 2017 Independence Bowl.
The Kid Combine will be divided into three age groups: 5-7 years old, 8-10 years old and 11-13 years old.
Other events in which the Kid Combine will be hosted will be announced throughout the year.
For more information on the Kid Combine or to volunteer, contact Jeff Butler, Director of Events and Operations, at (318) 221-0712 or jbutler@independencebowl.org.